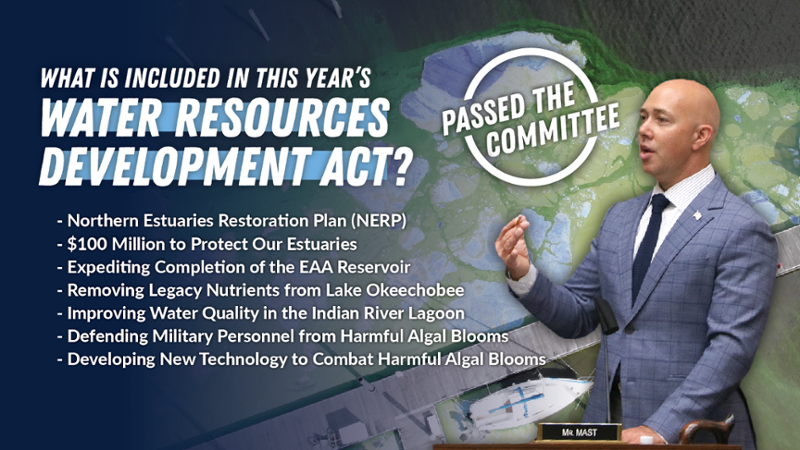 Without a doubt, the number one issue for our community is water. Once every two years, Congress passes the Water Resources Development Act (WRDA), and so, every two years, we have the chance to move the ball down the field in our fight for clean water.
Today, we got substantially closer to our touchdown: no toxic discharges ever again.
I'm a member of the Transportation and Infrastructure Committee, and I had the chance to help write this year's WRDA to ensure it includes as many of our community's water priorities as possible. The bill that was passed by the committee included seven provisions that I wrote to improve water quality in our community, combat harmful algal blooms, remove legacy nutrients from Lake Okeechobee and more.
Most importantly, the legislation included a bill that I introduced last month called the Northern Estuaries Restoration Program (NERP). Thanks to the Central Everglades Restoration Project, or CERP, there has been major progress towards ending the discharges that cause toxic algal blooms in our waterways. And while CERP is expected to end about two-thirds of discharges, that's still not good enough. The only acceptable result is zero. NERP will take over where CERP leaves off. It will require the Army Corps to plan additional infrastructure to stop the remaining discharges that CERP won't.
Speaking of infrastructure, this bill also includes $100 million for local infrastructure projects related to water quality. Water quality in the St. Lucie River, Indian River Lagoon and Lake Worth Lagoon has degraded substantially thanks to toxic discharges from Lake Okeechobee, as well as pollution from agricultural and municipal sources in our communities. This provision authorizes $100 million in new funding for Martin, St. Lucie and Palm Beach Counties to tackle local water projects, such as septic to sewer conversions or construction of new waste and stormwater treatment infrastructure to improve water quality and prevent harmful algal blooms.
For more on the other provisions that will directly benefit our waterways, click here.