Passport Issues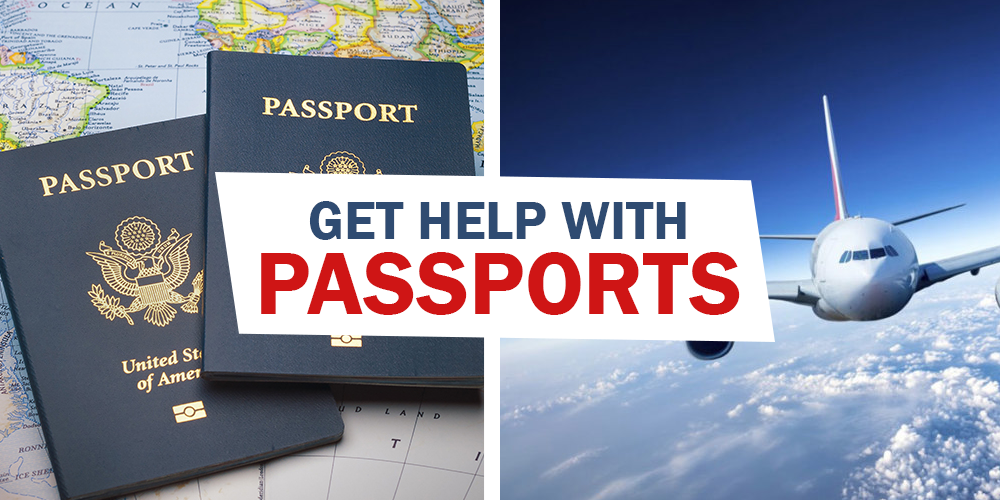 Securing a U.S. Passport, especially on short notice, can be a confusing process. Often, figuring out where to submit your application, determining what application to use and ensuring you submit your application in time to receive your Passport prior to your travel date can be difficult.
Our office can submit an urgent inquiry on your behalf to the appropriate U.S. Passport Agency officials, asking them to provide the status of your Passport, and if necessary, to request their assistance in expediting the processing and completion of the Passport.
In extremely time sensitive cases, my office can also provide help in assisting individuals in securing appointments at the appropriate Regional Passport Agency office to secure emergency issuance of a Passport (when the situation warrants).
However, please be advised that a minimum of 2-3 business days are required by the U.S. Passport Agency to review and respond to urgent inquiries. Therefore, if you require immediate assistance, please call our office between 9:00 a.m. and 5 p.m. Monday through Friday. If you are a resident of Florida's 21st Congressional District and require assistance with your efforts to secure your U.S. Passport, my office is happy to help. If you do not live in Palm Beach, Martin, or St. Lucie Counties, find your Representative's contact information here. All Congressional offices are able to assist their constituents with passports.
For less time sensitive requests, please complete the form below:
Authorization Form
In accordance with the Privacy Act of 1974, I give Congressman Brian Mast authority to act on my behalf.