Satellite Office Hours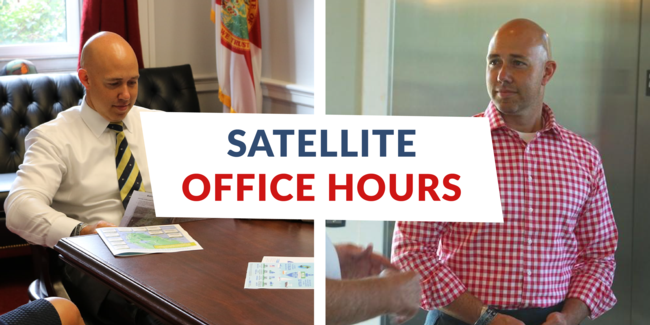 *Satellite Office Hours have been postponed until April 1, 2020 out of an abundance of caution as our commnuity deals with the coronavirus.*
I know firsthand just how frustrating government bureaucracy can be to navigate. That's why, as your representative in Congress, I strive to put an emphasis on helping you cut through the red tape to get the help you need.
If you are having an issue or need assistance with benefits, federal grants or other federal government issues, I wanted to make you aware of some upcoming satellite office hours that my staff will be holding across the 18th District.
Royal Palm Beach
March 10 from 10am – 12pm
Royal Palm Beach Branch Library
500 Civic Center Way
Royal Palm Beach, FL 33411
Palm Beach Gardens
March 26 from 11am – 2pm
Gardens Branch Library
11303 Campus Drive
Palm Beach Gardens, FL 33410
Indiantown
March 19 from 12pm - 2pm
Indiantown Library
15300 SW Adams Ave.
Indiantown, FL 34956
Palm City
March 20 from 12pm - 2pm
Palm City Library
2551 SW Matheson Ave.
Palm City, Fl 34990
Port St. Lucie
April 1 from 9am - 5pm
Communities Connected for Kids (St. Lucie West)
1860 SW Fountainview Blvd., Suite 200
Port Saint Lucie, FL 34986
March 25 / April 22 from 9am - 5pm
Keiser University
9400 SW Discovery Way
Port St. Lucie, FL 34987
March 10 from 3pm - 5pm / March 17, 24 and 31 from 9am - 2pm
Career Source
584 NW University Blvd. Suite 100
Port St. Lucie, FL 34986
Jensen Beach
March 11 from 1pm - 4pm/ April 8 from 9am - 5pm
Fire Station #8
7583 S. Ocean Drive
Jensen Beach, FL 34957
Fort Pierce
March 18 / April 15 from 9am - 5pm
Fort Pierce City Hall
100 N. US Highway 1
Fort Pierce, FL 34950
March 12 from 9am - 12pm / March 20, 27 and 31 from 3pm - 5pm
UP Center
2520 Orange Avenue
Fort Pierce, FL 34947
If you would like to be notified about upcoming satellite office hours, please fill out the information below.
Sign Up To Receive Updates On Upcoming Satellite Office Hours
Survey
Note: Fields marked with an * are required.
After you submit this survey, I will occasionally send you important updates related to these issues. You can unsubscribe from these updates at any time.