Veterans History Project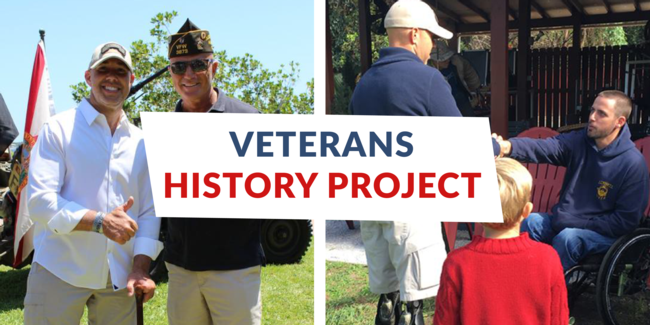 It takes a special kind of person to put on the uniform in defense of our nation and those who do are a living, breathing pieces of the history of the United States. That's why I'm so excited to share with you a new opportunity to help veterans in our community share their story with the nation.
Our 18th District Congressional office is seeking volunteers to help conduct interviews with veterans from across our community to be submitted to the Library of Congress as a part of the Veterans History Project. This project is a great opportunity for the community to come together and help veterans share their story with the nation and preserve it for generations to come.
I recently shared my story as a part of the Veterans History Project, and I hope you'll consider helping our veterans share theirs, too. If you or someone you know might be interested in volunteering, please sign up to attend a training session that will give you all the tools you need to help your 18th Congressional District staff with this special project:
Volunteer Training Session 1
January 18, 2020 from 10:30am – 1:30pm
Blake Library
2351 SE Monterey Road, Stuart, FL 34996
Volunteer Training Session 2
February 15, 2020 from 10:00am – 12:30pm
Okeechobee Branch Library
5689 Okeechobee Blvd, West Palm Beach, FL 33417
If you are a veteran that wants to share your story, the following veteran filming sessions are also scheduled. Additional details will be provided closer to the first filming session.
Veteran Filming Session 1
February 1, 2020 from 11:00am – 4:00pm
Martin County High School
2801 S Kanner Hwy, Stuart, FL 34994
Veteran Filming Session 2
February 29, 2020 from 11:00am – 4:00pm
Royal Palm Beach High School
10600 Okeechobee Blvd, West Palm Beach, FL 33411
*Volunteers must be 16 or older to participate.
Sign Up Here
Veterans History Project RSVP
Note: Fields marked with an * are required.
After you submit this survey, I will occasionally send you important updates related to these issues. You can unsubscribe from these updates at any time.