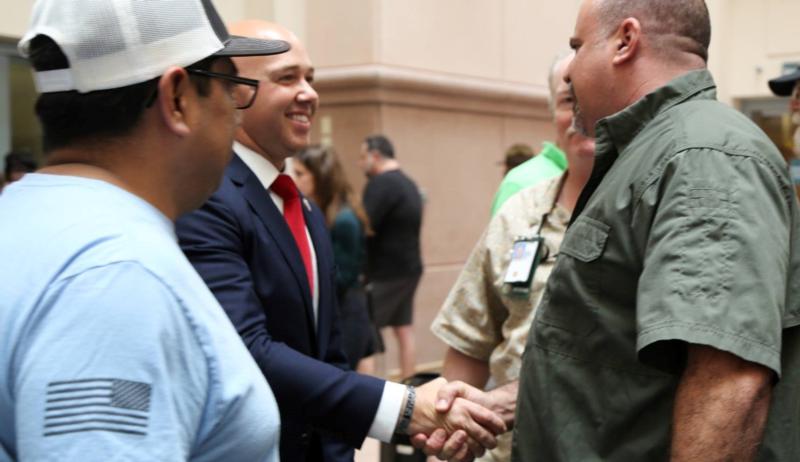 Our nation's veterans have earned the very best care our country has to offer. Sadly, as a veteran who gets my healthcare through the VA, I've seen firsthand how still too often the government fails our veterans. We can and must do better.
This was my first week as a member of the House Veterans Affairs Committee. In this new role, I'll have an even louder voice to advocate for veterans in our community and around the country.
Improving care for our veterans starts with reforming the Department of Veteran's Affairs and increasing oversight. Building on our passage of the VA MISSION Act last week, the House passed more than a dozen bills this week to continue the momentum toward improving care.
Here are a few of the highlights:
H.R. 1972 - VA Billing Accountability Act: This bipartisan bill will help relieve the financial burdens of veterans caused by delays at the Department of Veterans Affairs. The bill sets forth specific and immediate billing requirements so our nation's veterans are not receiving unbilled co-payments for VA care from years past.
H.R. 3642 - Military SAVE Act: This bill will help empower survivors of military sexual assault by allowing them to seek specialized care outside of the VA health care system.
H.R. 3832 - Veterans Opioid Abuse Prevention Act: This bill is an important step in the fight against our nation's opioid epidemic. Specifically, the bill directs the VA to connect VA health providers to a national network of state-based prescription drug monitoring programs that help identify abuse patterns in patients.
H.R. 4245 - Veterans' Electronic Health Record Modernization Oversight Act of 2017: This is an important step in our efforts to strengthen oversight of the VA and improve care. The bill directs the VA to provide Congress with its key planning and implementation documents for the electronic health records replacement project, in addition to copies of the contracts, to indicate the effort's progress and how the money is being spent.
H.R. 4451 - Homeless Veterans' Reintegration Programs Reauthorization Act of 2018: This bipartisan legislation will help prevent homelessness among veterans by closing gaps in coverage. The bill clarifies that veterans participating in federal, state, and community housing assistance programs are also eligible for HVRP assistance. This legislation also reauthorizes the HVRP program for five years, along with programs that are designed for female homeless veterans and homeless veterans with children.
H.R. 4830 - SIT-REP Act: This bill improves educational protections for veterans by giving the Secretary of the VA the ability to disapprove any course of education unless the educational institutions providing the course permit individuals to attend or participate in courses pending payment by the VA and accept a Certificate of Eligibility (COE) as a promise of payment.
H.R. 4958 - Veterans' Compensation Cost-of-Living Adjustment Act of 2018: This bill provides a cost-of-living increase for wartime disability compensation; compensation for dependents; clothing allowance; dependency and indemnity compensation to surviving spouses; and, dependency and indemnity compensation to children paid to our wounded warriors and their families for injuries they suffered while serving our nation in uniform.
H.R. 5044 - Service-Disabled Veterans Small Business Continuation Act: This bill will make it easier for surviving spouses of veterans to maintain the veteran-owned or service-disabled veteran-owned status of their small business after their veteran spouse passes away.
H.R. 5215 - Veterans Affairs Purchase Card Misuse Mitigation Act: This bill will prevent misuse of purchase card spending by requiring the VA Secretary to revoke the purchase card from any employee who is found to have knowingly misused their card or approval authority. This safeguard would prevent further misuse of government funds while existing penalties, ranging from suspension to demotion to removal, are considered for the wrongdoer.
H.R. 5418 - Veterans Affairs Medical-Surgical Purchasing Stabilization Act: This bill directs the VA to correct the problems with their medical-surgical formulary using input from medical professionals with relevant expertise rather than administrative staff. This legislation would also prevent VA from outsourcing the creation of the formulary.
H.R. 4334 - Improving Oversight of Women Veterans' Care Act of 2017: This bill will help improve access to women's specific healthcare needs at the VA by requiring VA to submit an annual report on veteran access to gender-specific care under community care contracts and quarterly reports on environment of care standards for women veterans.