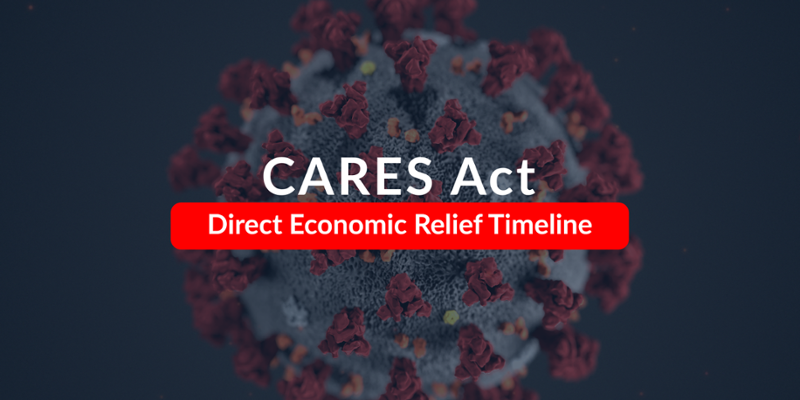 Congress recently passed the CARES Act, which authorized direct financial assistance up to $1,200 per individual and $500 per child. Here's the latest guidance from the IRS on when you can expect to receive this assistance:
If The IRS Has Your Direct Deposit Information: The IRS plans to begin delivering economic impact checks as early as the end of this week or beginning of next week to eligible Americans who filed their 2018 or 2019 taxes and included direct deposit information. If this includes you, no action is needed on your part.
If You Receive Social Security Benefits Via Direct Deposit: The IRS will make a second round of payments to Social Security beneficiaries who receive their benefits via direct deposit but did not file a 2018 or 2019 tax return. The IRS anticipates making these payments before the end of April. Social Security recipients do not need to file a tax return to receive their rebate. Click here for more information from the Social Security Administration.
Everybody Else: The IRS anticipates they will be able to begin issuing paper checks to individuals for whom they do not have direct deposit information at the end of April. Checks will be issued in reverse "adjusted gross income" order - starting with people with the lowest income first. They currently have the capacity to deliver checks at a rate of 5 million per week, so this process could take up to 5 months to complete. I am continuing to push the IRS to move faster because Americans need this assistance ASAP not in five months.
The best way to ensure you receive your check faster is to file your taxes this year, even if you have no tax liability. Each week, the IRS will distribute funds via direct deposit to anybody new who files their taxes and includes direct deposit information. The IRS also plans to set up a website by the end of the month for individuals to check the status of their check and provide their direct deposit information to the IRS. Additional information can be found at irs.gov/coronavirus.
For the vast majority of Americans, no action is needed to obtain the assistance because it will be distributed automatically; however, there are some unique circumstances that require action. The following resources are available to explain the details of how this money will be distributed:
Click here for the IRS website
Click here for Direct Financial Relief Frequently Asked Questions
Click here for Updated Guidance To Receive Individual Assistance
As always, our offices are open and ready to help. Please do not hesitate to contact the office at 202-225-3026 if you have any questions or need any assistance. You can also learn more and sign up for breaking coronavirus news alerts here.