Press Releases
Applications For Wounded Warrior Fellowship Now Open; Mast Attended Kickoff of "Soldier Ride" at White House with Wounded Warriors, President Trump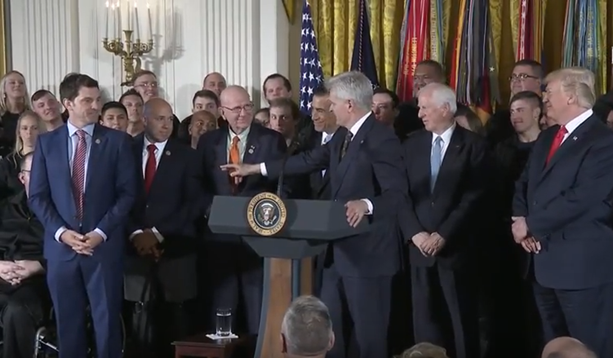 WASHINGTON, D.C. – U.S. Congressman Brian Mast (FL-18) today attended a ceremony hosted by President Donald Trump at the White House to kick off the Wounded Warrior Project's Soldier Ride. After the ceremony, Rep. Mast announced that his office is seeking a wounded warrior or medically retired veteran for a fellowship working at his first-of-its-kind congressional office in the West Palm Beach VA. The veteran chosen for the fellowship will work with military and veteran constituents to handle veterans-related casework and act as a facilitator between constituents and federal, state, and local agencies.
"I was honored to join President Trump at the White House today as we honored wounded warriors from across the country. We owe these men and women a debt of gratitude that we'll never be able to fully repay, but by working together I'm confident we can improve care for our wounded warriors, their families and all veterans," Rep. Mast said. "That's why I made it such a high priority to open a Congressional office inside the West Palm Beach VA—the first of its kind anywhere in the country. Now, we have the great opportunity to hire a wounded warrior to expand our services to veterans in our community. I know there is no shortage of qualified candidates so let's get to work!"
Background on the White House Ceremony
President Trump hosted wounded warriors, along with Members of Congress and other government officials, to kick start the annual Wounded Warrior Project Soldier Ride, a multi-day, rehabilitative bicycle ride designed to empower veterans and service members recovering from the physical and psychological wounds of war.
Additional Information on the Fellowship Opportunity
The Wounded Warrior Fellowship Program was established by the House of Representatives to provide employment opportunities for wounded or disabled veterans within Congressional offices.
The program is limited to veterans who meet all of the following requirements: Honorably discharged, released from active duty within the last five years, terminal pay grades at or below E-5 or O-3, 20% or greater service connected disabilities (waived if you have a Purple Heart). Veterans who are in receipt of a 20-year or Temporary Early Retirement Authorization (TERA) retirement are not eligible for the program.
Interested veterans should go to https://www.usajobs.gov/ and search "Wounded Warrior Fellowship Program" for more information and how to apply.
Additional Biographical Information
Prior to his election to Congress, Rep. Mast followed in his father's footsteps by serving in the U.S. Army for more than 12 years, earning medals including The Bronze Star Medal, The Army Commendation Medal for Valor, The Purple Heart Medal, and The Defense Meritorious Service Medal. While deployed in Afghanistan, he worked as a bomb disposal expert under the elite Joint Special Operations Command. The last improvised explosive device that he found resulted in catastrophic injuries, which included the loss of both of his legs.
While lying in bed recovering at Walter Reed Medical Center, Brian's father gave him advice that has stuck with him to this day—to ensure the greatest service he gave to our country and the best example he set for his children was still ahead of him. Brian took this advice to heart and dedicated himself to finding new ways to serve our country and his community.
###