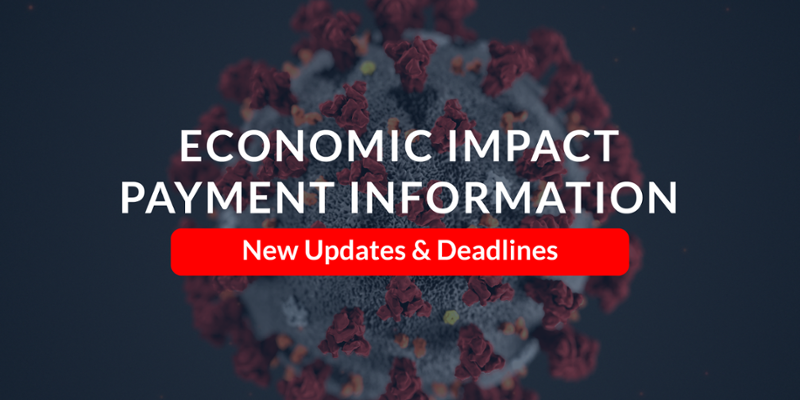 I have been working with the IRS for several weeks to help streamline the process for individuals to receive their stimulus check. On Friday, the Treasury Department and the IRS reported that 88.1 million payments worth nearly $158 billion had been issued in the program's first three weeks. This is slightly more than half of the total payments that will be made.
If you are still waiting on your economic impact payment, here is an estimate of when your payment will be delivered according to the IRS:
Social Security retirement, survivor and disability: Non-filers with direct deposit information on file should see economic impact payments in their bank accounts by April 29th.
Supplemental Security Income (SSI): Non-filers with direct deposit information on file should begin seeing payments in early May.
Veterans Compensation and Pension (C&P): Non-filers with direct deposit on file should also begin receiving their stimulus payments by early May.
If you successfully updated your bank information: If you used the Get My Payment tool to update your bank information, your payment will be processed the following week. The IRS pulls this information at noon on Tuesday and begins processing payments the following Saturday.
For everybody else: the IRS also made substantial upgrades to the Get My Payment tool over the weekend, so if you have not yet received your payment, it is worth checking there again for updated information. If you are still receiving a message that says "status not available," more information is available here on what that might mean for you. Answers to other frequently asked questions about this tool are available here.
The following information is extremely important if you do not typically file taxes and need to claim a dependent:
Supplemental Security Income & Veterans Affairs Beneficiaries With Dependents
Those receiving Supplemental Security Income (SSI) and Veterans Compensation and Pension (C&P) with dependent children who did not file a tax return in 2018 or 2019 must use the IRS Non-Filer Tool by May 5th to ensure you quickly receive your full Economic Impact Payment in a timely manner. If you have a dependent child and do not use this tool by the deadline, you will still receive your $1,200 stimulus payment automatically; however, any $500 dependent credits you are eligible for will be delayed until you file taxes for 2020.
Social Security and Railroad Retirement Beneficiaries With Dependents
For Social Security retirement, disability and survivor benefit recipients, as well as Railroad Retirement Beneficiaries, the deadline to claim dependents has now passed. If you have a child but did not register on the IRS Non-Filers tool by April 22nd, you will still receive your automatic $1,200 beginning this week; however, the additional $500 per eligible child amount will be paid in association with filing a tax return for 2020. This group can no longer use the Non-Filers tool to add eligible children.
Federal Benefit Recipients Without Dependents
If you do not have any dependents to claim, no action is required on your part. Recipients will generally receive the automatic $1,200 payments by direct deposit, Direct Express debit card or by paper check, just as you would normally receive your benefits.
Finally, the following resources are also available to explain the details of how this money will be distributed:
As always, your 18th District Congressional Offices are open and ready to help. Please do not hesitate to contact the office at 202-225-3026 if you have any questions or need any assistance. You can also learn more and sign up for breaking coronavirus news alerts here.